It looks like DMARC needs to be configured for noreply@agora.nubo.coop. I'm getting warnings on mails sent with that address.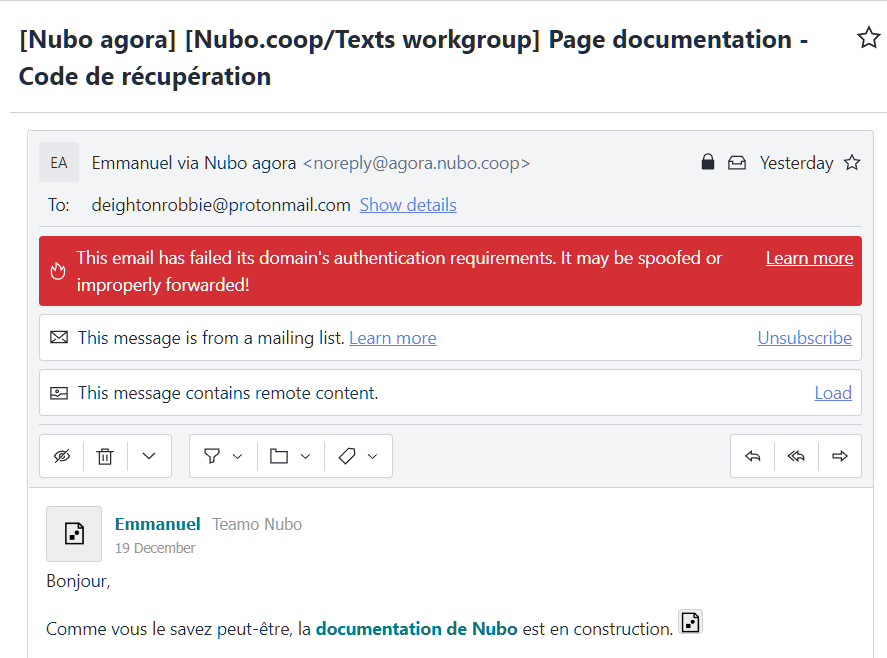 Hello,
Nubo agora is not yet set up to enable e-mail responses, but that's something that we should allow in the future.
I take note of the DMARC error for when we configure this.
Thank you
Hi Emmanuel,
Nubo sends email notifications when a topic or group is being watched, but those mails all have that issue. Is that something you want less experienced paying users to see? for example the mail I received when you posted the reply above also shows that warning.
Sorry, I partially misunderstood. But what I meant is that we still have to better the whole Nubo agora e-mail configuration. I don't know if the tech people will have time soon (the priority is now on the mail and cloud services, not agora) but I have reported the issue to them and I hope someone will soon look into it.
Thanks for reporting it, it'll ensure that we go further into the configuration (and maybe sooner

).